Home

RightNow Media Library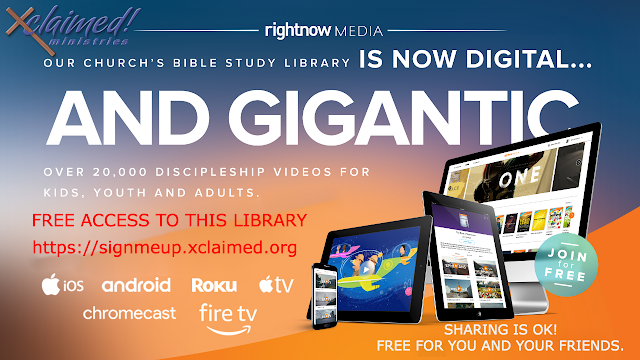 RightNow Media Library
Free access provided by Xclaimed Ministries
WHAT?
Xclaimed Ministries is providing free access to the RIGHTNow Media library to all our website visitors, their family and friends (So, basically anyone).
This is a streaming library of Bible study videos that inspires faith every day of the week.

WHY?
Xclaimed Ministries goal is to provide free resources for people to grow in their walk with Christ, ability to share the Good News of Jesus Christ, and have access to teachings that can help in everyday experiences.
HOW?
Click the link or image below to begin. You must create an account with RightNow Media. The link gives free access to the library using the Xclaimed Ministries account. You are our guest. Use the library as often as you like and feel free to share the link with anyone you think could benefit from this library.
NOTE: Yes. (When the question comes up at the end) You are affiliated with Xclaimed. You are our guest, we invited you.
Our online church community is growing!
To keep you connected and help you with as many resources as possible we're excited to give you FREE access to RightNow Media, a wonderful library of video resources for all ages from churches and pastors all across the country, to help you develop and grow as both a disciple of Jesus and disciple-maker. Streaming directly to your computer, tablet, or mobile device, you'll find the online Bible Study Library includes relevant content for every age group or spiritual season. You can search by category, topic, or speaker. Additionally, many of the series have direct links to workbooks and leader guides. Parents, you'll find that RightNow has a multitude of videos and resources for your kids. Utilize the links below to start using this resource today.
Visited 17,644 times, 1 visit(s) today